Jaguar XK R V8 Coupe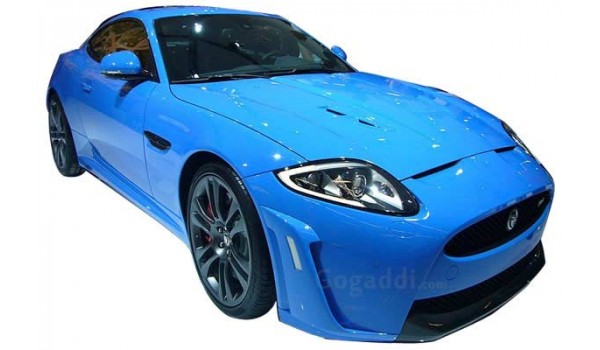 Brand:
Jaguar
Model:
Jaguar XK
Availability:
In Stock
Ex Showroom Price: Rs. 95,19,542
Ex Tax: Rs. 95,19,542
Jaguar XK R V8 Coupe
The Jaguar XK R V8 Coupe is 4794mm in length, 1892mm wide, has an overall height of 1329 mm, and its ground clearance is 100mm. With a kerb weight of 1660 kg, the car can seat 2 persons comfortably. Jaguar XK R V8 Coupe's engine can run at a maximum power of 510PS @6000rpm (PS@rpm) and a maximum torque of 625Nm @2500rpm (kgm@rpm). When it comes to mileage, it delivers N/A km/liter under optimal road conditions, while on city roads it offers N/A km/liter. The highest speed attained by this car is Km/Hour km/hour. Some prominent features of this car include Power Steering,Power Windows,Air Conditioner,Tubeless Tyres,Folding Rear-Seat,Cup Holders and Central Locking. The XKR-S coupe is the fastest vehicleion XK to date. Powered by Jaguar's acclaimed 4.2litre V8 supercharged engine, it has been developed for the true Jaguar enthusiast. It is faster and more agile than the XKR, taking the Jaguar sports car experience to a new level, whilst retaining the refined, dynamic excellence and crafted luxury that is unique to Jaguar. Sharing the XKR's highly advanced lightweight aluminium body architecture, the high performance of the XKR-S is made totally accessible by the enormous reserves of the 4.2-litre all aluminium four-cam supercharged V8's 420bhp (SAE) and 560Nm of torque. With recalibrated engine management, the XKR-S reaches an electronically limited top speed of 174mph (280kph) – 19mph (30kph) faster than the XKR. This additional performance is made accessible by improved aerodynamics (reduced drag and lift) and unique suspension set-up. Sharing the XKR's class-leading six-speed sequential automatic transmission, the XKR-S has exceptional refinement and the option of ultra-fast manual shifts controlled by steering wheel-mounted paddle shifts – with shift times measured in milliseconds to make this one of the fastest shifting transmissions in the world. To match its increased performance, the XKR-S adopts the most powerful brakes on any Jaguar vehicleion model, plus extensive changes to its suspension and steering to provide further enhanced ride and handling characteristics without compromising comfort. The high performance braking system for the XKR-S was developed by Jaguar's Special Vehicles team in partnership with British competition brake specialist Alcon, which supplies the stopping power for some of the fastest cars in the world, on both road and track. The brakes were perfected over thousands of miles of testing on some of Europe's most demanding roads, and by Jaguar's engineering team at the Nurburgring in Germany. The XKR-S Alcon R Performance braking system features 400mm diameter discs on the front and 350mm discs at the rear. Each disc is radially ventilated for maximum cooling and to resist fade even under the hardest use, and will perfectly match the XKR-S's increased top speed. The friction surfaces of each disc carry a series of crescent-shaped grooves that help clear water from the discs during wet weather and help to keep the brake pads clean at all times.
Safety & Security
Anti-Lock Braking System
Driver Air-Bags
Passenger Air-Bags
Immobilizer
Traction Control
Child Safety Locks
Comfort & Convenience
Air Conditioner
Power Windows
Power Door Locks
Power Steering
Power Seats
Steering Adjustment
Central Locking
Defogger (Rear)
Remote Boot/Fuel-Lid
Interior
Cup Holders
Folding Rear-Seats
Tachometer
Leather Seats
AM/FM Radio
CD Player
Exterior
Alloy Wheels
Tubeless Tyres
Sun-Roof
Front Fog Lights
Rear Wash Wiper
Dimensions and Weights
Dimensions(L x B x H) (mm)
4794X1892X1322
Wheel Base (mm)
2752
Ground Clearance (mm)
100
Front Track (mm)
0
Rear Track (mm)
0
Boot Space (liter)
200
Kerb Weight (kg)
1660
Gross Vehicle Weight (kg)
2075.00
Number of Doors
2
Fuel Economy
Mileage Highway (km/liter)
0
Mileage City (km/liter)
0
Mileage Overall (km/liter)
0
Capacities
Seating Capacity (person)
2
Fuel Tank Capacity (liter)
70
Performance
Maximum Speed (Km/Hour)
0
0-100kmph (Seconds)
0
1/4 Mile (Seconds)
0
Engine
Engine Type/Model
Displacement cc
5000
Power (PS@rpm)
510PS @6000rpm
Torque (Nm@rpm)
625Nm @2500rpm
Valve Mechanism
0
Bore (mm)
92
Stroke (mm)
93
Compression Ratio
11.5
No of Cylinders (cylinder)
8
Cylinder Configuration
V8
Valves per Cylinder (value)
4
Fuel System
Transmission
Transmission Type
Automatic
Gears/Speeds (Gears)
6Gears
Clutch Type
Final Reduction Gear Ratio
0
Suspensions
Front Suspension
Rear Suspension
Steering
Steering Type
Power Assisted
Standard
Minimum Turning Radius (meter)
10
Brakes
Front Brakes
Rear Brakes
Wheels and Tyres
Wheel Type
Wheel Size (Inch)
0
Tyres
Write a review
Your Name:
Your Review:
Note: HTML is not translated!
Rating:
Bad
Good
Enter the code in the box below: