Mitsubishi Pajero Sport 2.5 MT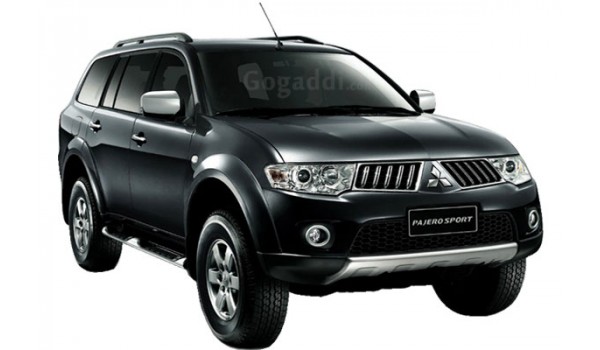 Brand:
Mitsubishi
Model:
Mitsubishi Pajero Sport
Availability:
In Stock
Ex Showroom Price: Rs. 4,62,250
Ex Tax: Rs. 4,62,250
Mitsubishi Pajero Sport 2.5 MT
The Pajero Sport's 2.5-litre four-cylinder in-line turbo diesel may be smaller than its competitors, but the 176bhp it develops 168bhp, similar to the amount put out by the Toyota Fortuner's larger 3.0-litre engine. Acceleration and performance on the Sport also resembles the Fortuner. After a small amount of vibration and some initial lag, power is delivered in a strong and steady stream all the way from 1,800rpm to 4,500rpm. The engine feels very smooth in the mid-range and there is considerable punch when you keep your foot pinned down while making your way across the five-speed manual. The engine is also particularly effective on the highway. As long as you are somewhere in the mid-range, there's always plenty of torque available for overtaking. This is clearly Mitsubishi's best diesel engine yet. As you go past 100kph, the Sport pulls ahead from all of its rivals, and this time it's not just on paper. Back to some niggling paperwork and, importantly, it's priced at Rs 23.5 lakh (ex-showroom, Delhi), which is approximately Rs 2.5lakh more than the Toyota Fortuner. A rival to the Fortuner it is, but one that comes at a price. Now if only the handling was sharper and we had an automatic to choose from, that price difference wouldn't have mattered much.The Mitsubishi Pajero Sport is one vehicle that has the capability of changing Mitsubishi's fortunes in India. It is powered by a 2.5 litre common-rail diesel engine that puts out 178 bhp of power and meaty 400 Nm of torque. It comes with a "super-select" 4×4 transfercase that allows the user to drive in two-wheel drive, full-time 4×4, or four-wheel drive with center differential locked and also four-wheel drive low ratio. This gives the Pajero Sport excellent multi-terrain capabilities. Mitsubishi Pajero 2012 will come with new look and stylish exterior. The car has been designed for tough road and it will come with excellent mileage and with more luxury. The highlight of 2012 Pajero will be the color coded front bumper and grille. The new Pajero will come with 2.8l turbo charged inter cooled diesel engine with higher mileage and will suit for long run. The car has been developed for the best fuel efficiency. The car has been designed with suspension technology for smoother ride on rough and bumpy roads. It will also be safe for driving on uneven roads and mountain ride. The extra powerful engine will help to safe fuel and it will be economic. Exterior is looking so nice and very sporty. Head Lamps is so cool. It looks like a Toyota Fortuner. Its Fog lamps as well as its bumper looks so sporty than Toyota Fortuner. Its rear view is so nice than Toyota Fortuner. Interior (Features, Space & Comfort) is very nice and improved by an old Mitsuboshi Pajero SFX and GLX. The Pajero rides well on its tall springs. You can drive the Sport through some of the largest craters around and the suspension will take it in its stride. Come to think of it, this would be an ideal car in which to tackle long stretches of broken tarmac, the rubber-footed suspension just soaking everything up. Stability at speed is surprisingly good too. It feels perfectly calm and composed even at triple-digit speeds. Also impressive is the feel-some steering. It does feel a bit weighty at parking speeds, but as soon as you are up and running, the feel and feedback are exactly what you want. But while it has a reasonable amount of grip in corners, it feels too top-heavy to corner with confidence.
Safety & Security
Anti-Lock Braking System
Driver Air-Bags
Passenger Air-Bags
Immobilizer
Traction Control
Child Safety Locks
Comfort & Convenience
Air Conditioner
Power Windows
Power Door Locks
Power Steering
Power Seats
Steering Adjustment
Central Locking
Defogger (Rear)
Remote Boot/Fuel-Lid
Interior
Cup Holders
Folding Rear-Seats
Tachometer
Leather Seats
AM/FM Radio
CD Player
Exterior
Alloy Wheels
Tubeless Tyres
Sun-Roof
Front Fog Lights
Rear Wash Wiper
Dimensions and Weights
Dimensions(L x B x H) (mm)
4695X1815X1840
Wheel Base (mm)
2800
Ground Clearance (mm)
215
Front Track (mm)
1520
Rear Track (mm)
1515
Boot Space (liter)
0
Kerb Weight (kg)
2065
Gross Vehicle Weight (kg)
2710.00
Number of Doors
5
Fuel Economy
Mileage Highway (km/liter)
0
Mileage City (km/liter)
0
Mileage Overall (km/liter)
0
Capacities
Seating Capacity (person)
6
Fuel Tank Capacity (liter)
70
Performance
Maximum Speed (Km/Hour)
0
0-100kmph (Seconds)
0
1/4 Mile (Seconds)
0
Engine
Engine Type/Model
2.5L 16 Valve intercooled turbochar
Displacement cc
2477
Power (PS@rpm)
178PS @4000rpm
Torque (Nm@rpm)
400Nm @2000rpm
Valve Mechanism
0
Bore (mm)
0
Stroke (mm)
0
Compression Ratio
0
No of Cylinders (cylinder)
4
Cylinder Configuration
in-line
Valves per Cylinder (value)
4
Fuel System
Transmission
Transmission Type
Manual
Gears/Speeds (Gears)
5Gears
Clutch Type
Final Reduction Gear Ratio
0
Suspensions
Front Suspension
Double Wishbone with coil spring suspension
Rear Suspension
3 link, coil spring suspension
Steering
Steering Type
Rack & Pinion power assisted steering
Power Assisted
Standard
Minimum Turning Radius (meter)
5.6
Brakes
Front Brakes
16" Ventilated discs
Rear Brakes
16" Ventilated drum-in-discs
Wheels and Tyres
Wheel Type
Alloy wheels
Wheel Size (Inch)
17
Tyres
265/65 R17
Write a review
Your Name:
Your Review:
Note: HTML is not translated!
Rating:
Bad
Good
Enter the code in the box below:
Rs. 4,62,250