Toyota Etios VX-D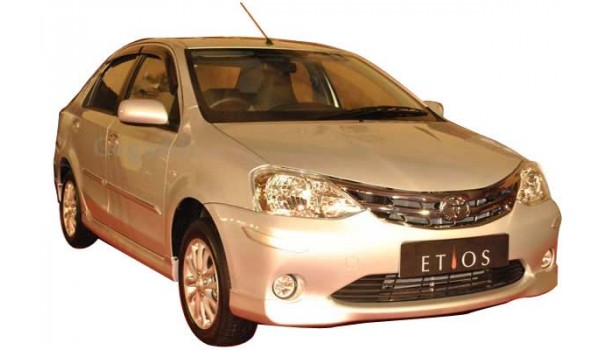 Brand:
Toyota
Model:
Toyota Etios
Availability:
In Stock
Ex Showroom Price: Rs. 8,32,611
Ex Tax: Rs. 8,32,611
Toyota Etios VX-D
Toyota wanted to make Etios cheaper but they ended up making a cheap Car. How to Reduce the Price of Etios Style , Luxury, Comfort, Performance Safety 1)Luxury We buy sedan for social status and the driving comfort and safety of passengers. But in Etios there is no luxury, We all have been to 5 Star Hotels and we know what is Luxury. The difference between budget Hotel and Star rated Hotels, similarly Budget Airlines and Star rated Airlines defines Luxury. Etios does not have any Luxury feature which may be achieved by having- AEORVM ? Automatically Electronically adjusted Outside Rear view mirror. ACC ? Automatic Climate Control Adjustable driver seat - Height Wood grained instrument panel Grip type door handles High Quality seat and fabric. Two tone beige color interior 2)Comfort High levels of Noise in the passenger cabin from engine. High levels of noise inside the passenger cabin from Road. High levels of Vibration felt at steering, Instrument panel, arm rest, and seats. Petrol engine sounds like Diesel fuel driven vehicle. No speakers in the rear. 3)Performance The weight of the vehicle is only 930Kg. Low mileage irrespective of high performance engine. Low mileage irrespective of light weight body. 4)Safety Higher NVH levels can lead to fatigue and tiredness to passengers. Higher vibration levels can make driver impulsive and lead to accidents. Low weight of vehicle makes it unstable at high speeds. 5) Style The car looks average from the looks and you have to pay to get the radiator chrome grill installed to make it stylish. Toyota can not produce cars below INR 10 Lakh Whenever we talk about the problems being faced in Etios, the dealership people answer that since the price of Etios is kept low Toyota could not provide any luxury feature and even compromised on the material used in making the car. The inteior itself is worth discriminating, the floor mat also looks thinner and of lower grade, the EPDM gaskets are removed from all the four doors. The absence of gasket makes it convenient for insects, cockroaches, ants, spiders and lizards to get inside the vehicle as soon as the door is opened. The interior area of the cabin trapped between the frame and door is always dirty even though the vehicle is cleaned from outside. After spending a hefty 7.5Lakh plus the Etios is not able to deliver the Comfort, luxury and the pride that comes with the brand. Etios model V and VX are disasters and there is hardly any significant luxury parameter to distinguish the two variants. Etios fails to impress because of noise and vibrations from the engine caused due to poor quality of the engine and further reduction in the dampers used to suppress the sound and vibrations emanating from the Engine. Even the new 2011 Etios engines generate so high levels of Noise and Vibratios at 2000 km, which makes me think that what will be the levels of these vibrations and noise after 1 year and driving vehicle for more than 20000km. The noise and vibrations can also grow exponentially. If a new vehicle is producing irritating noise and vibrations then this will get worse with regular use of Etios because of road conditions and normal wear and tear and ageing of vehicle. Are we buying Etios because it is cheaper? No certainly not. We are buying because of the brand and trust associated with Toyota. Toyota has made Etios Cheap in Quality in an attempt to make it Cheaper.
Safety & Security
Anti-Lock Braking System
Driver Air-Bags
Passenger Air-Bags
Immobilizer
Traction Control
Child Safety Locks
Comfort & Convenience
Air Conditioner
Power Windows
Power Door Locks
Power Steering
Power Seats
Steering Adjustment
Central Locking
Defogger (Rear)
Remote Boot/Fuel-Lid
Interior
Cup Holders
Folding Rear-Seats
Tachometer
Leather Seats
AM/FM Radio
CD Player
Exterior
Alloy Wheels
Tubeless Tyres
Sun-Roof
Front Fog Lights
Rear Wash Wiper
Dimensions and Weights
Dimensions(L x B x H) (mm)
4265X1695X1510
Wheel Base (mm)
2550
Ground Clearance (mm)
170
Front Track (mm)
595
Rear Track (mm)
0
Boot Space (liter)
0
Kerb Weight (kg)
1005
Gross Vehicle Weight (kg)
0.00
Number of Doors
4
Fuel Economy
Mileage Highway (km/liter)
22.2
Mileage City (km/liter)
13.5
Mileage Overall (km/liter)
15
Capacities
Seating Capacity (person)
5
Fuel Tank Capacity (liter)
45
Performance
Maximum Speed (Km/Hour)
0
0-100kmph (Seconds)
0
1/4 Mile (Seconds)
0
Engine
Engine Type/Model
1 ND-TV, Diesel 4-Cylinder, 8V SOHC
Displacement cc
1364
Power (PS@rpm)
68PS @3800rpm
Torque (Nm@rpm)
170Nm @1800rpm
Valve Mechanism
0
Bore (mm)
0
Stroke (mm)
0
Compression Ratio
0
No of Cylinders (cylinder)
4
Cylinder Configuration
In-line
Valves per Cylinder (value)
0
Fuel System
Transmission
Transmission Type
Manual
Gears/Speeds (Gears)
5Gears
Clutch Type
Final Reduction Gear Ratio
0
Suspensions
Front Suspension
MacPherson Strut
Rear Suspension
Torsion Beam
Steering
Steering Type
Power Assisted
Minimum Turning Radius (meter)
0
Brakes
Front Brakes
Ventilated Disc
Rear Brakes
Drum
Wheels and Tyres
Wheel Type
Alloy Wheels
Wheel Size (Inch)
15
Tyres
185/65 R15
Write a review
Your Name:
Your Review:
Note: HTML is not translated!
Rating:
Bad
Good
Enter the code in the box below: