Tata Sumo Gold LX BS III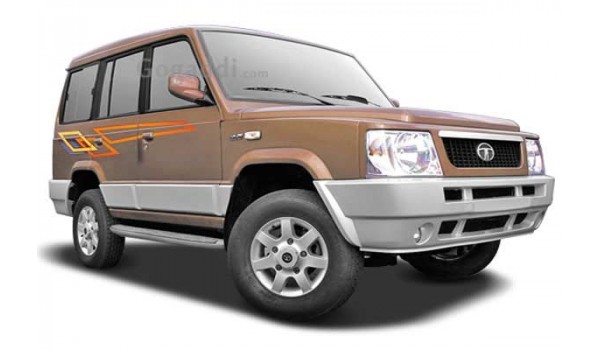 Brand:
Tata
Model:
Tata Indigo eCS
Availability:
In Stock
Ex Showroom Price: Rs. 5,93,251
Ex Tax: Rs. 5,93,251
Tata Sumo Gold LX BS III
This variant of Tata Sumo Gold is placed just above Tata Sumo Gold CX and has been positioned higher than the base model; thus the price tag becomes slightly higher. Tata Sumo Gold LX is a powerful and masculine SUV that has a 3.0 litre of CR4 diesel engine with a displacement of 2956cc. The diesel motor churns out maximum power of 60 to 62 kW at the rate of 3000 rpm accompanied with 250Nm of pea torque at the rate of 1600 to 2000 rpm. The mileage delivered by Tata Sumo Gold LX is similar to the base variant, which means 12 km per litre of city mileage and 15 km per litre of highway mileage. The engine is mated with 5 speed manual gearbox, which ensures smooth and exciting ride. Apart from the sturdy engine, the car comes with a powerful and effective air conditioning system that would make the ride more comfortable especially in hot summer days. A leading car manufacturers in India Tata has introduced many Tata sumo cars variants. One of the best Tata Sumo car is Tata Sumo Gold LX BS III car. It perphas one of the best launches from Tata Motors, the Tata Sumo Gold LX BS car has special variants in each vehicle series. This is the main reason to attract different customers in different choice. Tata Sumo Gold series is one of the practical in the Indian car market which proved to stay on customers' choice. You may find Tata Sumo Gold LX BS car detail herewith. You may compare Tata Sumo Gold LX BS III car with other cars listed herein. You can also find some of the best international cars lists here. There is no problem with Tata Sumo Gold LX BS III car even if it is crossed given mileage or kilometers limits by the manufacturers. This car will definitely give you a good mileage between 13 to 15 kmpl. Tata Sumo Gold LX is one of the base model that comes CR4 diesel engine. This car has ability to make 60 to 62 kw of power at the rate of 3000 rpm along with 250 Nm of torque at the rate of 1600 to 2000 rpm. Tata Sumo Gold LX BS engine has displacement of 2956cc and it has combined with five speed manual gearbox.
Safety & Security
Anti-Lock Braking System
Driver Air-Bags
Passenger Air-Bags
Immobilizer
Traction Control
Child Safety Locks
Comfort & Convenience
Air Conditioner
Power Windows
Power Door Locks
Power Steering
Power Seats
Steering Adjustment
Central Locking
Defogger (Rear)
Remote Boot/Fuel-Lid
Interior
Cup Holders
Folding Rear-Seats
Tachometer
Leather Seats
AM/FM Radio
CD Player
Exterior
Alloy Wheels
Tubeless Tyres
Sun-Roof
Front Fog Lights
Rear Wash Wiper
Dimensions and Weights
Dimensions(L x B x H) (mm)
4258X1700X1925
Wheel Base (mm)
2425
Ground Clearance (mm)
190
Front Track (mm)
0
Rear Track (mm)
0
Boot Space (liter)
0
Kerb Weight (kg)
0
Gross Vehicle Weight (kg)
0.00
Number of Doors
5
Fuel Economy
Mileage Highway (km/liter)
0
Mileage City (km/liter)
0
Mileage Overall (km/liter)
0
Capacities
Seating Capacity (person)
7
Fuel Tank Capacity (liter)
65
Performance
Maximum Speed (Km/Hour)
0
0-100kmph (Seconds)
0
1/4 Mile (Seconds)
0
Engine
Engine Type/Model
4SP TCIC Engine
Displacement cc
2956
Power (PS@rpm)
85PS @3000rpm
Torque (Nm@rpm)
223Nm @1600rpm
Valve Mechanism
0
Bore (mm)
0
Stroke (mm)
0
Compression Ratio
0
No of Cylinders (cylinder)
0
Cylinder Configuration
Valves per Cylinder (value)
0
Fuel System
Transmission
Transmission Type
Manual
Gears/Speeds (Gears)
Gears
Clutch Type
Final Reduction Gear Ratio
0
Suspensions
Front Suspension
Double Wishbone type with coil spri
Rear Suspension
Steering
Steering Type
Power Assisted
Minimum Turning Radius (meter)
5
Brakes
Front Brakes
Disc
Rear Brakes
Drum
Wheels and Tyres
Wheel Type
Aluminium Wheels
Wheel Size (Inch)
16
Tyres
185/85 R16
Write a review
Your Name:
Your Review:
Note: HTML is not translated!
Rating:
Bad
Good
Enter the code in the box below: